About PSG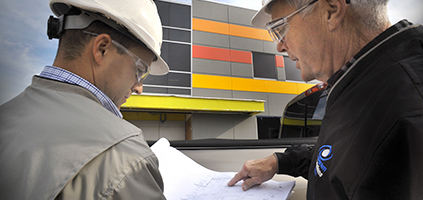 Program Solutions Group is a team of design and construction professionals helping companies identify, plan and manage their construction needs. As Owner-Representatives and/or Construction Managers, we tailor custom solutions for our client's real estate programs. 

We have completed projects across the United States, Mexico and Europe for our industrial, corporate and commercial clients. Projects range in size from large industrial production/warehouse facilities to tenant fit-outs in retail centers.
Program Solutions Group provides guidance, uncolored by any conflicting interests, through the best delivery method for you, be that Design-Build, Construction Management, CM At-Risk, Agency CM or as an Owner's Representative. Our comprehensive management throughout every stage of a project yields the greatest benefits to our clients because we work for you, the Owner, as an extension of your staff.
Our Philosophy & Mission
The mission of Program Solutions Group is to provide construction solutions through transparency and trust as an extension of our client's team. Our core expertise spans all phases of construction from concept to completion, encompassing Construction Planning, Design, Estimating, Scheduling, Project/Construction Management and Owner/Tenant Representation. We fulfill our client's interests and objectives through continuous open communication and the highest ethical standards.
Our Success is Measured By:


The level of trust and satisfaction our clients experience during and after the engagement


Repeat opportunities and ongoing relationships


The continued respect of our Customers, Competitors, Industry Peers, Vendors and Subcontractors


PSG's standing as a preferred employer for construction professionals who share our philosophy and vision


The financial strength of our Company in providing acceptable returns to our shareholders


Our History

Program Solutions Group was formed in 2004 by President Wayne Burrer, after a successful 20 year career in construction management with both construction and corporate firms. Wayne knew there was a need for the expertise of a facilities construction staff, as firms invest heavily in construction projects yet these same firms didn't always have a long-term need or the desire to add permanent staff. Program Solutions Group was founded to fill that gap, serving as an extension of our client's team to envision, plan and manage capital construction projects.
Keith Recknagel joined Program Solutions Group in 2005, bringing his comprehensive construction management abilities to the firm. Together, Wayne and Keith established many of the firms' processes and procedures while carefully choosing additional Program Solutions Group team members.
To reward their significant efforts on behalf of the firm and enrich the foundation for future success, Dave Kreienkamp and Jason Mason were named Partners in January 2013.